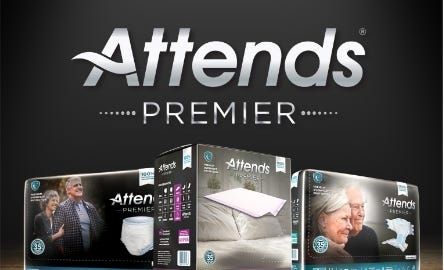 Shop Attends Premier
Attends offers a full portfolio of solutions to protect against bladder and bowel leaks. No matter your severity, size or preference, we have a product to meet your needs.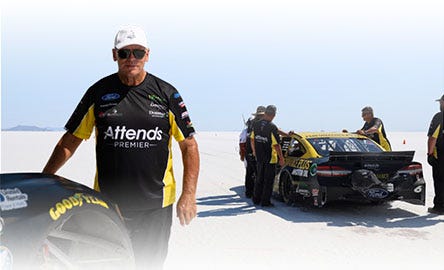 Don't Let Incontinence Slow You Down
Retired Marine, Bill Mace, doesn't let bladder leaks keep him from living an active life. Bill joined us at Bonneville and spent the week working on cars and helping to break records.
13x Land Speed Recond Holder, on the Road to Breaking Records in a NASCAR
Raleigh, North Carolina [August 06th, 2019] - Domtar Personal Care (NYSE: UFS) (TSX: UFS) parent company of Attends, announced that it is partnering with The Garage Shop for the 2019 Bonneville Salt Flats Speed Week as owner and driver Aaron Brown attempts to set the land speed record piloting the 2018 #6 Ford Fusion NASCAR Cup Series Talladega Super Speedway stock car. Domtar will be joining primary partner, Performance Plus Motor Oil.
The land speed event, which is held annually at the Bonneville Salt Flats in Utah, will take place from August 10th-16th with upwards of 25,000 fans in attendance and over 400 teams competing. Hosted by the Southern California Timing Association and produced by the Bonneville Nationals Inc (BNI), Speed Week consists of six days of racing each year in August with participants coming from all over the world. It takes place on the uniquely beautiful landscape about 88 miles from Salt Lake City UT. Addicts who have caught "Salt Fever" return year after year to witness the event and get a briny taste of breakneck adrenaline.
Domtar Personal Care's Premium Incontinence Brand, Attends Premier, to be an Associate Partner on The Garage Shop's Bonneville Land Speed #6 Ford Fusion
Attends is excited to partner with The Garage Shop for this historic event. Attends is no stranger to high performance, with the recent launch of Attends Premier. Attends Premier is the brand's most absorbent and highest performing product line, that offers premium overnight incontinence solution for both users and caregivers. Attends, like Speed Week, raises the bar in delivering performance. Motorsports enthusiasts and Attends consumers alike will be able to follow along with the car's journey to the Salt Flats on Attends' social media pages as we share exciting videos and sneak peeks of the car's build along with other events along the way.
After a full year in preparation and execution, the car was tested in April 2019 and broke four stock car class records at the East Coast Timing Association's Arkansas Mile, gaining excitement for the race to come. Upon completion of the land speed record runs at Bonneville, the car will be on display at two of the largest motorsports shows in the U.S., SEMA (Las Vegas) and PRI (Indianapolis).
or look for updates on any of our fellow partner pages in the weeks leading up to Speed Week.