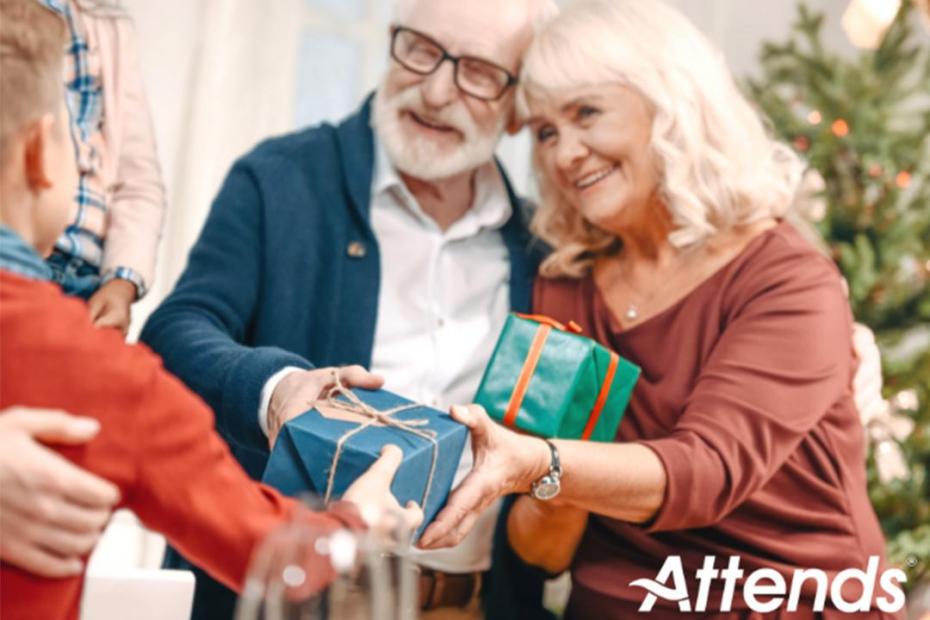 With the holiday season comes all the various aspects that make for a joyous experience. Endless laughs with family and friends, the infectious Christmas spirit, delicious food; no wonder it's considered the most wonderful time of the year! However, whether you are caring for someone with incontinence or experiencing it for yourself, worrying about accidental bladder leakage can quickly spoil the Christmas spirit. Fortunately, there are several ways to minimize the stress that comes with dealing with incontinence to help make your Christmas as enjoyable and cheerful as possible. Here's some ways to prepare for Christmas with incontinence to keep your holiday both happy and bright.
Traveling During Christmas with Incontinence
Often times, the holiday season requires traveling to visit family. While traveling with incontinence does require a little planning, there are some tips to make the process as smooth and simple as possible. If your holiday festivities involve traveling, whether by car or by plane, here are some things you should consider when preparing for Christmas.
Traveling by Plane
Sometimes, numerous hours in a car is not the best option for individuals dealing with incontinence. If you are traveling by plane for the holidays, considering the following things can help you prepare for your trip.
Book an aisle seat towards the back of the plane near the bathrooms.
When booking your ticket(s), plan for the individual dealing with incontinence to sit as close to the bathroom as possible and in a seat closest to the aisle. Not only will the individual then not have to worry about climbing over other individuals next to them, but the bathroom will also be more easily accessible. This will also provide more confidence and even possibly prevent an accident from occurring.
Wear a product specifically designed for maximum protection.
This will prevent having to change a product in a tiny restroom on the plane during a lengthy trip, as a greater amount of urine can then be contained.
Pack a carry-on bag with supplies.
In your carry-on bag, make sure to have leakage products easily accessible for emergencies or accidents. Pack items such as briefs, underwear, pads, underpads, wet wipes, and anything else you or a loved one may need. Also remember to pack a change of clothes in case of an emergency. If you need a custom travel checklist, here's a basic one you can start out with.
Wear clothes that are easy to get on and off. Wearing clothes that are easy to take off can enable you or a loved one to get to the toilet faster, consequently preventing an accident from happening. Or, if an accident does occur, this makes it simpler to access and change a leakage product. Pants with an elastic waistband are a good example of ideal clothing that should be worn by an individual with incontinence when traveling.
Traveling by Car
With airports being extremely busy during the holiday season, sometimes it is more efficient to travel by car when visiting family members for Christmas. Fortunately, traveling with confidence is easily attainable with the following steps:
Monitor your liquid intake. While staying hydrated is crucial in maintaining good health, it is also important to monitor your liquid intake as you begin traveling. Drink plenty of water, but do not consume an excess amount of liquids. Instead, drink small amounts of liquids throughout the day.
• Watch your diet. There are several foods and beverages that can make the effects of incontinence much worse. Some examples are caffeine, spicy foods, chocolate, citrus fruits and juices, and milk or milk products. Avoiding these foods before and during your travels especially will make the journey a lot easier.
Plan to stop frequently. Plan to allow time in your travels to stop periodically, allowing you or a loved one to use the restroom or change if needed. Before beginning your travels, find rest areas along the way using a GPS and plan to stop at them, or a nearby gas station or restaurant, every so often. After meals especially, plan to stop every 20 to 30 minutes.
Pack a bag with supplies. Just like preparing for a plane ride, having a bag with all your leakage products is essential. Pack the bag with things like briefs, underwear, pads, wet wipes, a change of clothes, and anything else you might need, and have the bag easily accessible. If you need it, here is a complete travel checklist that you can further customize to fit your needs.
Coping with Incontinence on Christmas Day
Most of the steps listed above are still applicable when you arrive at your destination, such as wearing easy-off clothing and maximum protection leakage products, and monitoring your diet. Ultimately, to minimize the stress of dealing with incontinence on Christmas day, you should plan to do the following
Monitor your diet. Having a "cheat" day is often the norm on Christmas Day. But, you can make it a whole lot easier on yourself or a loved one by limiting the foods that are proven to worsen the effects of incontinence. As mentioned before, plan to avoid caffeine, alcohol, chocolate, spicy foods, milk or milk products, and other foods or beverages that aren't so good for your stomach. Or, since it is a special holiday, make sure to limit the intake of these items. Try to eat foods that are high in fiber and try to calm your bladder by drinking small amounts of liquids throughout the day rather than large amounts.
Wear maximum protection products and have your bag of supplies with you at all times. Wearing a product designed for maximum protection and lengthy wear allows you or a loved one to spend more time enjoying family, and less time worrying about frequent changes or embarrassing accidents. Doing so will give you more confidence and help to ease some stress. So, be sure to have plenty of leakage products readily available at all times.
Develop a schedule and stick to it. Whether it be every 2 hours or every 30 minutes, develop a schedule of when you or a loved one should use the restroom and stick to that schedule. Begin practicing your schedule at least a week before your holiday plans start. This will begin to train your bladder and lessen the chances of accidents or leakages.
Hopefully, these steps will help you prepare for Christmas when dealing with incontinence. If all of the steps above are taken, you and your loved ones should have a stress-free, enjoyable holiday!
Need Reliable Leakage Products for the Holidays?
Our incontinence products are sure to help make your holiday season a little easier. You can find our Attends and Attends Discreet products at your local pharmacy or grocery store and stock up for the holidays. To find a retailer near you, visit Where to Buy Attends Products.