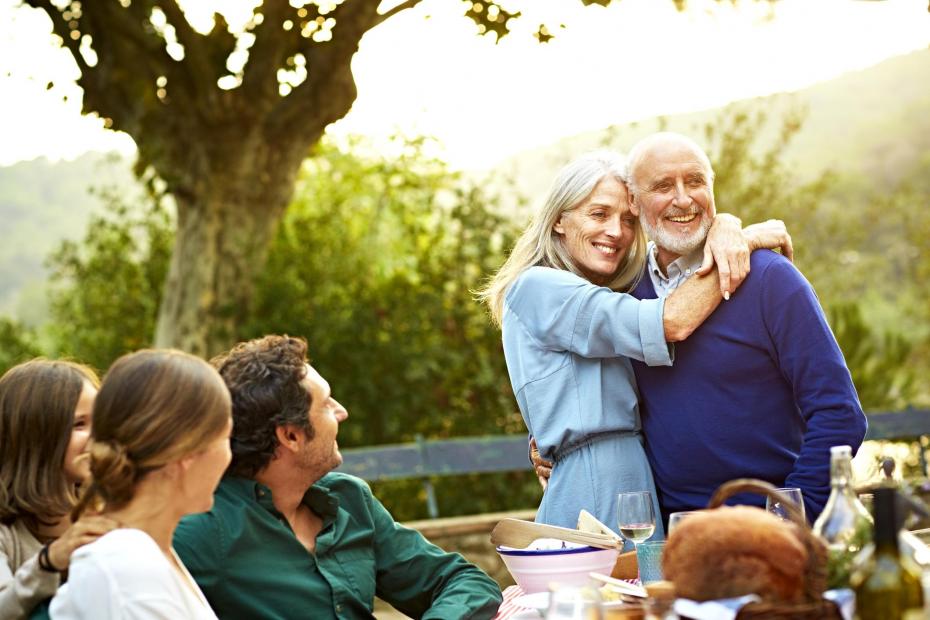 The Role a Father Plays
Never underestimate a father's influence and encouragement. When talking about his father, famous North Carolina basketball coach Jim "Jimmy V" Valvano once said, "My father gave me the greatest gift anyone could give another person: he believed in me." There's a lot to be said about the special powers of parental encouragement. That's why we officially celebrate the contributions fathers and father figures have made throughout our lives on Father's Day.
Incontinence in Men
As an adult daughter or son, you see your father through loving eyes, and it can be hard to believe (let alone accept for a fact) that a certain point we need to step in to make sure our fathers' needs are met, because their needs are just as important as our own. Men in general may be less forthcoming when they realize they are experiencing bladder leakage. Per the Agency for Healthcare Research and Quality, there are roughly 13 million people in the U.S. diagnosed with urinary incontinence. While less than half are men, that's still a staggering number.
The reasons why the risk of urinary leakage rises steadily as men age, per The National Institute on Aging, include:
Weak or overactive bladder muscles
Damage to nerves that control the bladder (such as from MS or Parkinson's disease)
Disorders that make it difficult to access bathroom facilities in time
Prostate issues
Certain medications such as

Alpha-blockers (HBP)
Antidepressants
Diuretics
To further understand how the condition of incontinence impacts men, read Bladder Control Problems in Men from the National Institute of Diabetes and Digestive and Kidney Diseases.
Selecting the Right Product
Attends Premier – When comfort, performance, and materials are top priority, trust in Attends Premier. With the Dry-lock Containment Core, Smartcool breathability and ultra-plush design, this premium product will help Dad feel confident and protected during the day or overnight. Learn more.
Attends Discreet Men's Underwear – Our Discreet Underwear is for more active men with moderate to heavy incontinence. This product was designed with a full-belly elastic waistband and a soft, cloth-like fabric to be worn and feel like regular underwear. Learn more.
Attends Briefs– These briefs are typically used for men who need assistance with activities of daily living and can't get around on their own. The side tabs make it easy for the caregiver to take the briefs off and on. Learn more.
Fun Ways to Honor Fatherhood
Sharing moments with your Dad can be extra special, with a little effort. Here are some ideas to help you plan ahead for a great Father's Day.
Recall childhood memories together.
Look at photographs using photo albums or a digital frame
Giving a framed collage of your favorite pastimes to show your appreciation
Watch a home movie or family video
Bring an item that would evoke a pleasant recollection
Write a "Thank You" note to your Dad.
Read it aloud to him
Tell him 10 things you appreciate about him
Tell him 10 ways he has influenced you
Start an authentic conversation.
Ask him about what he's most proud of/what he'd do differently
Ask him about his childhood dreams
Ask him what he likes about being your father
Enjoy a favorite game or activity.
A game of golf
A round of tennis
Relaxing boat ride on the lake
Cheering in the crowd at a sporting event
Ask him to "remember the time when..."
Then record him telling a funny little story or favorite memory
Go down a musical memory lane.
Research songs from his era beforehand
Play recordings of his favorite songs
Bring song sheets and a musical instrument
Sing songs together, record them
Surprise him with a visit to one of his favorite spots.
Fishing hole
Bike trail
Walking trail
Restaurant
No matter how you or your Dad will be celebrating Father's Day, know that there are products to help him feel dry and confident throughout the day. Ensure your Dad feels independent and comfortable so his focus can be on family – not on flow.