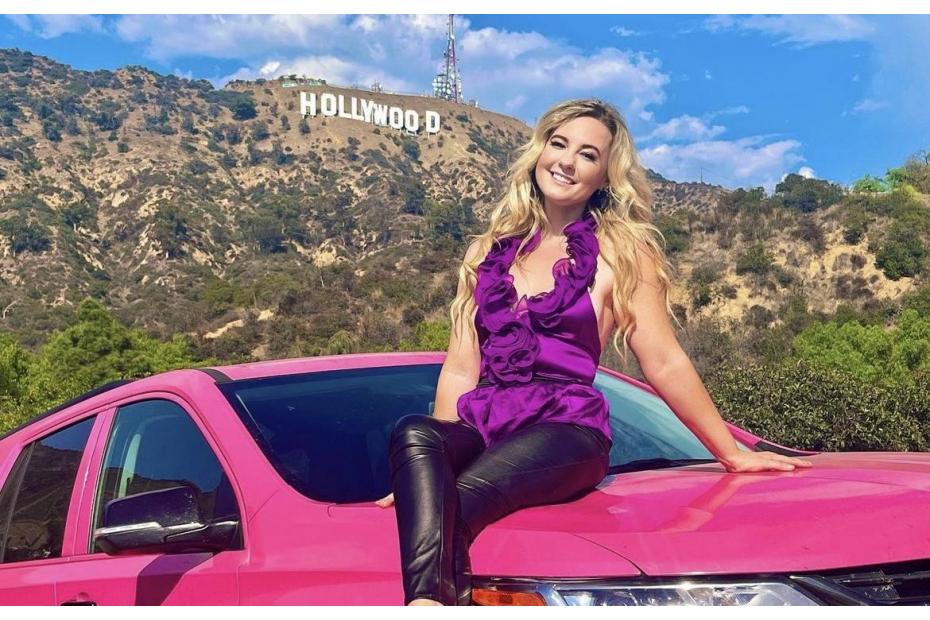 My Journey as a Wheelchair Actress by Madeline Delp
When you think about giving a perfect job interview, the last thing you would probably imagine having to say is, "By the way, my special accommodations include needing to lay down and stretch every several hours, requesting sudden days off when my pain days get too bad, and yeah, sometimes having to go home to change if I pee my pants when I can't get to the bathroom quickly enough."
For people with differently-abled bodies, these are just a few of the many challenges that can come up in the workplace – but how do you find the right approach and communication style to still succeed in your career?
As someone who is a wheelchair user, I have struggled to explain my needs to employers in a variety of situations. From getting fired from my first job at a movie theater because of missing work due to health complications, to disappearing to the bathroom for way too long when an unfortunate incident occurred, and even missing a flight to a speaking event because I forgot to warn the company who hired me not to book too short of a layover. (Let's just say I need extra time in most situations!)
Needless to say, when I got the news last fall that I received the biggest role of my life as the lead character in a feature film, I was nervous that my long list of complications would get in the way. These feelings were intensified by the fact that I was moving across the country from the East Coast all the way to Los Angeles to accept the role, and if I let my "disability" get in the way of my performance, I would have put my whole life on the line for nothing.
Here is the story of how I learned to take control of my career in a high-stakes situation, and tips on how you can do the same in your work life, especially with the help of Attends!
Receiving My First Lead Movie Role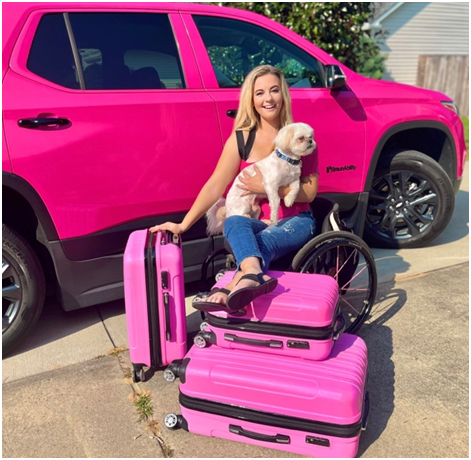 After delicately putting a pan of mozzarella chicken in the oven in my North Carolina apartment, I remembered that I needed to check my email. The message I had eagerly been awaiting popped up with the title, "Congratulations on Your New Role", and my poor cats scattered with terror as I screamed out in astonishment… My life was about to change in a major, wonderfully terrifying way. After 3 hours of nonstop phone calls and a very burnt chicken, I began to process the fact that in 3 weeks I would be packing up my entire life and moving to California.
When the day came to say goodbye to my family and friends and begin the 2,000-mile drive across the United States, I was struck with the realization that I was embarking on the scariest adventure of my life. Not only did I feel like I was jumping off a cliff by moving to a new (and extremely large) city, but I was also committing to a job that I felt completely unqualified for.
My character in the movie, Violet, was written as a professional dancer and singer who became injured in a car accident, and with a large amount of determination, had to learn to ballroom dance in a wheelchair with her new and charming dance partner, Petro. I was able to relate to my character in a powerful way and knew that I could tune into those emotions to portray the role, but there was just one problem: I didn't know how to ballroom dance. At the time, my dance experience could be summed up by a few TikTok trend dances and a wheelchair hip-hop dance class from three years earlier – not exactly enough to prep for a role of this caliber.
As I passed the endless rows of cornfields in Arkansas and Texas during the midpoint of my drive, my mind had conjured up endless worries about how I was going to juggle how to learn to professionally dance, train for my very first lead acting role and build up the stamina to handle the 12-14 hour days that I would be enduring as soon as I started working on set. I knew that I was ready to give everything I had to make the project a success, and I thought that through pure willpower alone I could overcome the limitations of my body. Surely if I wanted it badly enough, I could make it work without needing to make too many accommodation requests – at least, that's what I told myself.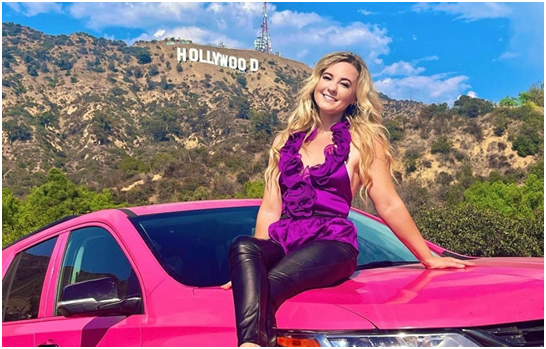 Confronting the Challenges of the Role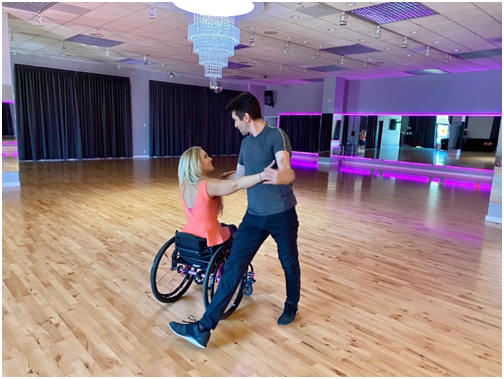 On my third day in Los Angeles, after a week-long drive across the country with a small dog in my lap, I rolled into a large dance studio to meet my new co-star and dance partner. I knew he was not only an international ballroom dancing champion, but also a former Dancing with the Stars pro dancer. Intimidation and a heavy dose of insecurity began to set in: What if he finds dancing with a wheelchair user annoying? Will he think I'm not qualified for the role since I'm not experienced? What if dancing is too hard on my body and I have accidents? Not exactly the thing I want to happen in front of someone I'm trying to impress.
Luckily, my last worry was an easy fix. Attends has had my back (or rather my bladder?) for many years, and I knew that my go-to favorite, Attends Premier pads, have saved the day during the many physically intense activities that I have taken on. The other worries however, seemed to be a little more founded. An hour had passed into our first session, and I could sense his frustration building – not frustration with me necessarily, but rather with the new challenge of dancing with someone in a wheelchair. For a guy who was used to dancing with the top female dancers in the industry, he probably felt completely out of his comfort zone, just like me.
Over the next several months, our awkwardness and frustration turned into a delightful friendship. We both worked tirelessly toward our mutual goal of doing whatever it took to make our five dances for the movie look flawless – or as close to flawless as we could possibly get! Our intense training led to me being thrown out of the chair (several times), crying during practice because of feeling like I wasn't learning choreography quickly enough, and yes, having my bladder give out at after several of our especially challenging 3-hour training sessions. (Thank goodness for Attends!)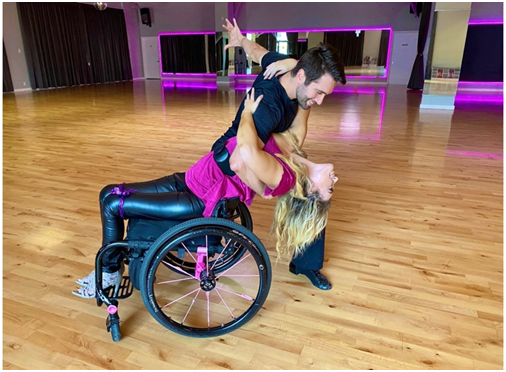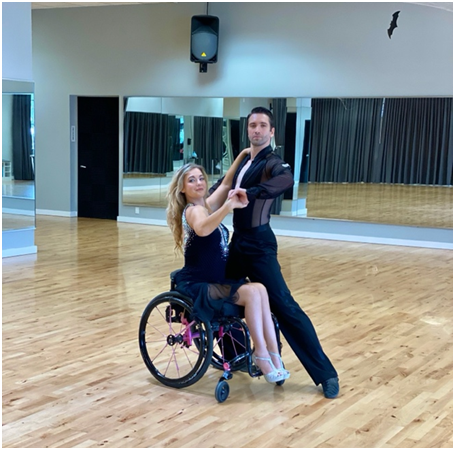 The real challenge, however, came exactly four weeks before we began filming. We were practicing a new move for our Paso Doble routine, during which I lost my balance and hit the side of the wheelchair extremely hard. The impact shot through me like a knife. I didn't want to seem weak, so I brushed it off as nothing - but when I woke up the next morning, I was unable to get out of bed because of the throbbing pain in my side. After a rushed visit to Urgent Care, I heard the news that I had received a hairline fracture to my lower rib.
During my three-week mandatory bedrest, I finally had the time to focus on my upcoming filming schedule. The production company was on a strict timeline and wasn't able to reschedule our shoot dates, so I knew that I would have to push through regardless of the pain. As someone who experiences high levels of nerve pain due to my spinal injury anyway, I was already a bit concerned about how I would do during bad pain
days on-set. Now I had two injuries to worry about! A few days before filming began, it occurred to me that maybe I hadn't asked myself enough questions about where I would draw the line regarding my physical limits. I began to wonder: at what point do I need to call a break on-set when my pain becomes overbearing? Or when I feel like something is off with my body or bladder? Our days would be long, and the scenes would be hard - physically and emotionally. How could I show respect to the production team while also protecting myself? My desire to succeed had made me neglect asking these vital questions, something that would quickly come back to bite me in the weeks that followed…
Click on the link below to see how the story ends and read tips on how to maximize success in your career!